Tips and Tricks for painting at home
Full Color Chart: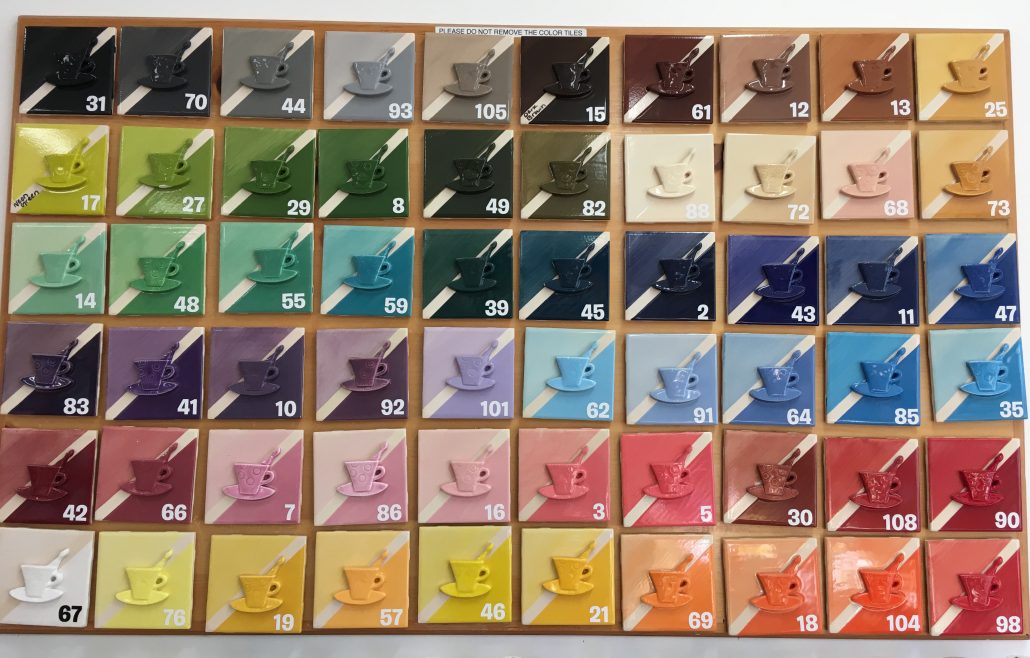 Q: What happens if I mess up?
DO: wash off with water
Do Not: paint over with white – dark colors will come thru white and will still show signs of the "mistake"
Q: What do we do if the paint is a little thick/hard?
Add a little water and mix.  If watered down, 4 coats of paint is okay.
Q: All of the paint spilled or we need more colors?
Come on in, we'll fill you up!
Q: It spilled on my carpet, favorite dress, etc!? Should I be wearing an apron?
It is water based and washable with water!
Q: Can I write in sharp, acrylic or other gel pen?
No. Not if you want it fired in our kiln. Nothing survives 1800* heat except for our glazes. Anything else turns to dust. Acrylic is oil based and can explode if painted over. Please do not use acrylic if you are returning for firing.
Q: We're done, now what?
Wait a few hours to dry before wrapping back up to return for firing. Fill out contact information so we may call you when it is ready for pickup. 
Q: What do I do if I want my name or year on the ornaments?
We have provided black paint – you can try to use a toothpick or the provided brush for letters and numbers.  Otherwise, if it is something simple and fast (Name/year), write in ball point pen and we will use our fine writer bottle over your pen writing.